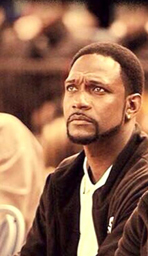 Robert Youngblood

: Head Coach
Coach Brentwood Leopards Black U18's
Coach Rob started playing organised basketball at the age of 6 and played for his first team aged just 7 years old. He then played High School basketball, then went on to play college basketball for 2 years at Louisiana State University followed by 2 years at Southern University.
He was the first draft pick in the CBA Draft which is now The Developmental League and was also first pick for The Wichita Falls Texans, where he played for a further 2 years.
Coach Rob then moved to play in the following countries, winning the Championship in every country: –
Venezuela
Portugal
England
Germany
France
He then came back to England to play for The London Towers in the Euroleague.
Coaching
Head Coach at Essex Leopards for 3 years winning 2 titles
Assistant Head Coach at London Lions for 2 seasons
Head Coach for Hemel Storm for 2 years winning The National Cup Title
Level 3 Coach
Level 2 Referee
First Aid trained
Disability trained
Child Protection qualified