Welcome to 5 Star Basketball Academy
Home Of
Brentwood Leopards
Free Trial Session
We deliver basketball coaching in a fun, exciting and energetic way. Our coaches are all dedicated to helping young individuals of all ages and levels.
Please get in touch if you would like more information about any of our sessions or if your child would like to come along for a free trial session on 07970 934480 or office@5starbasketballacademy. Please complete a registration form and make contact with our club secretary using the above email address.
Please note the registration form has to be completed by a parent / guardian
Click below to Register
Opens in new window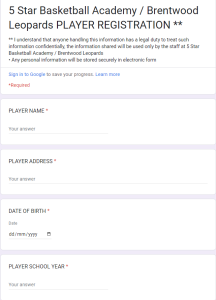 Training Sessions
We are now back at our regular home of Brentwood County High School for all training sessions and games!
Monday
5-6.20pm – U18's
6.20-7.40pm – U16 Girls
7.40-8.50pm – U16 Blacks & U16 Whites
 Tuesday
5-6.20pm – U11 & U12
6.20-7.40pm – U14 & U16 
7.40-8.50pm – U14 Blacks
 Wednesday
5.30-7pm – U16 Black & Whites
6.50-8.20pm – U18's 
Thursday
5-6.30pm – U14 & U16 
6.30-8pm – U14 Blacks & U16 Girls 
Friday
6-7.30pm – U11 & U12